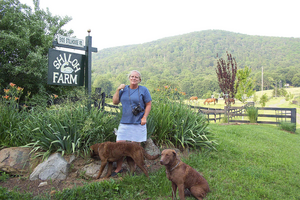 Julie Reardon: The horseman's realtor since 1985, helping buyers and sellers of rural real estate and specializing in horse properties.

About Julie & Hope Springs Farm:

Hope Springs is located right outside the quaint village of Orlean, in northwestern Fauquier County's horse country. We offer horse boarding and breed, train and compete with Chesapeake Bay Retrievers in AKC licensed hunting tests and field trials. We host an annual American Chesapeake Club Field Day & Picnic at our farm and are open by appointment.

Julie has many years of experience with dogs and horses. Our boarding is directed at retirees and lay ups. The farm is available to retriever trainers by appointment for use of our 3 ponds and fields.

Licensed Realtor (TM) Washington Fine Properties (formerly Armfield Miller & Ripley Fine Properties LLC) in Middleburg, Virginia with 30 years of experience with rural and horse properties. Life member of the (multi) million dollar club of the Greater Piedmont Area Association of Realtors (GPAAR) Currently license is on referal status during house rebuild/MICO administration.

Washington Fine Properties with offices in Washington DC, Maryland and Virginia acquired Armfield Miller & Ripley Fine Properties LLC, the leading real estate firm in Middleburg. WFP is the leading boutique real estate brokerage firm in the Middleburg, VA area.

Your name sounds so familiar
My name is familiar to many horse people as for many years I wrote and photographed horse events for publications like the Chronicle of the Horse, the Fauquier Times Democrat, Sidelines magazine as well as others. I've also written and photographed for the Washington Post, Loudoun Times Mirror, Old Town (Alexandria) Crier, and my photos have appeared in People, Time, Newsweek, Vanity Fair, etc.


The find a home page is a search feature so you can use the realtors' MLS to find exactly what you are looking for as you begin your search. If you want help or information in finding a realtor, call me at (540)364-9480 or e-mail me at my gmail account HopeSpringsFarm


I'm a native Virginian, graduate of the University of Virginia, former employee of the U.S. Department of State, part time photographer and journalist, a horse owner, foxhunter, and former low-level competitor in several different disciplines. The horses you see in my ads, my "models", are my two off the track thoroughbreds, Baron and TenBrooks. My dogs appear in some of the ads too; I breed and compete Chesapeake Bay retrievers. Anyone that knows me knows my passion for my dogs and horses! Give me a call anytime for information about the area, real estate, lender inspections, dogs or horses. (540)364-9480.